Welcome to the Bandito Bookstore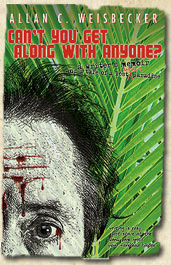 At this point in time, the primary objective of the Bandito Bookstore is to sell one book: Can't You Get Along With Anyone? A Writer's Memoir and a Tale of a Lost Surfer's Paradise by Allan Weisbecker. We're a small publisher just trying to get by, and when you buy the book directly from us, you not only get a better price than you would at Amazon, you also help support an independent publisher. So we'd appreciate it if you'd shop here with us.
More Information About the Book:
Overview | Q & A About the Book | Reviews

---
Where else can I buy it?
Any book published by Bandito Books is available wherever books are sold, including your local bookstore, Amazon.com, Barnes and Noble, Borders, etc. If you don't see our books in your local bookstore, ask them to order 'em 'cause we're in the catalog!
---
We have now expanded the store into 4 sections,
Books (this one's obvious)
,
Smart (stuff that makes sense)
,
Cool (creative and interesting)
, and
Ridiculous (totally random)
.
---
---
---
---
We're working on getting some T-Shirts made, some bumper stickers and some really cool odds-and-ends. Check back soon for the whole nine yards.
If you're looking for Allan's other books, you'll have to buy them elsewhere, 'cause we didn't publish them (though we're working on getting some in stock here so we can sell signed copies). Until then, we'd recommend shopping at your local bookstore. If you just can't do that, then click the book covers below to get them from Amazon.com.
---